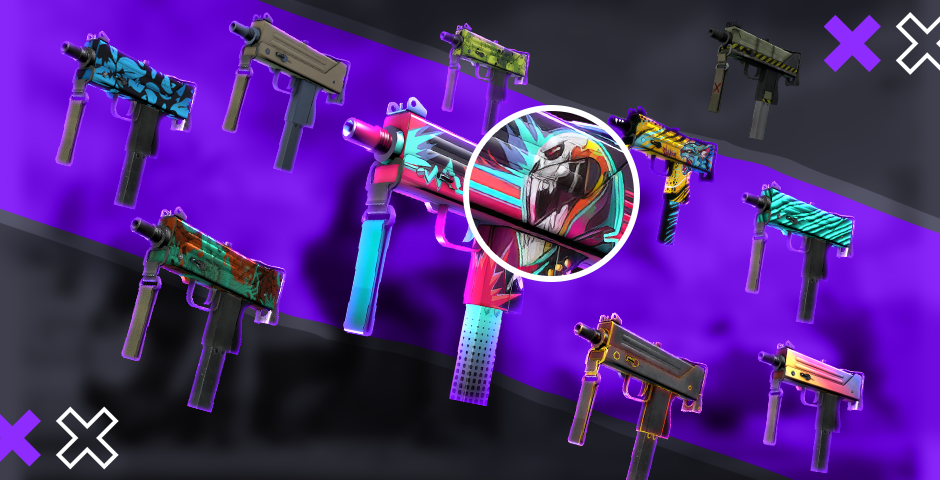 Top MAC-10 Skins in CS2 to Use: Ranked List [2023]
Counter-Strike enthusiasts know that weapon skins aren't just for aesthetic appeal; they can also provide bragging rights and personal flair. The MAC-10, a favorite among CS2 players for its rapid rate of fire and mobility, is a popular choice when it comes to skin customization. In this article, we'll delve into the best MAC-10 skins CS2, considering various price ranges, qualities, exploring CS2 best case for MAC-10 skins and unique features to help you find the perfect one for your arsenal.
Exploring the Best MAC-10 Skins in CS2
The MAC-10 is a submachine gun that has found its place in the hearts of CS2 players. Known for its affordability, high fire rate, and exceptional mobility, it's a favorite weapon in close-quarters combat. Whether you're rushing bombsites or defending them, the MAC-10 is a versatile choice.
One of the exciting aspects of CS2 is the array of skins available for each weapon. From common and affordable designs to rare and expensive ones, there's a MAC-10 skin for every budget. In this article, we'll explore CS2 best MAC-10 skins, taking into account their price range, quality, and the unique features that set them apart.
The Top 10 Best MAC-10 Skins in CS2: Firepower Meets Aesthetics
All MAC-10 skins CS2 offer a diverse range of options, catering to different budgets and style preferences. Whether you seek rarity, affordability, or visual appeal, one of these skins is sure to elevate your MAC-10 gameplay.
Finding the Best MAC-10 Skins in CS2
In conclusion, the MAC-10 emerges as a formidable weapon in the realm of CS2, offering a high fire rate and maneuverability that can give you the edge over your opponents. When it comes to enhancing its appearance, there is no shortage of options available. Whether you prefer the futuristic and vibrant design of the Neon Rider, the sleek and subtle look of the Tornado, or the exotic appeal of the Last Dive, there are MAC-10 skins to suit every taste and price range. So, choose your preferred skin wisely and elevate both your style and gameplay with the best MAC-10 skins CS2.
FAQ
What is the fire rate of Mac 10 CS2?
The MAC-10 in CS2 boasts a rapid fire rate of 800 rounds per minute, making it a formidable choice in close-quarters combat situations.
How much is the Mac-10 in CS2?
The price of the MAC-10 can vary depending on the skin and its rarity. You can find affordable options for just a few cents, while rare and high-tier skins can cost hundreds of dollars on the Steam Market.
Is Mac-10 good in CS2?
Yes, the MAC-10 is considered a solid choice in CS2, especially for players who prefer fast-paced, aggressive playstyles. Its high fire rate, low recoil, and affordability make it a favorite in close-range engagements.