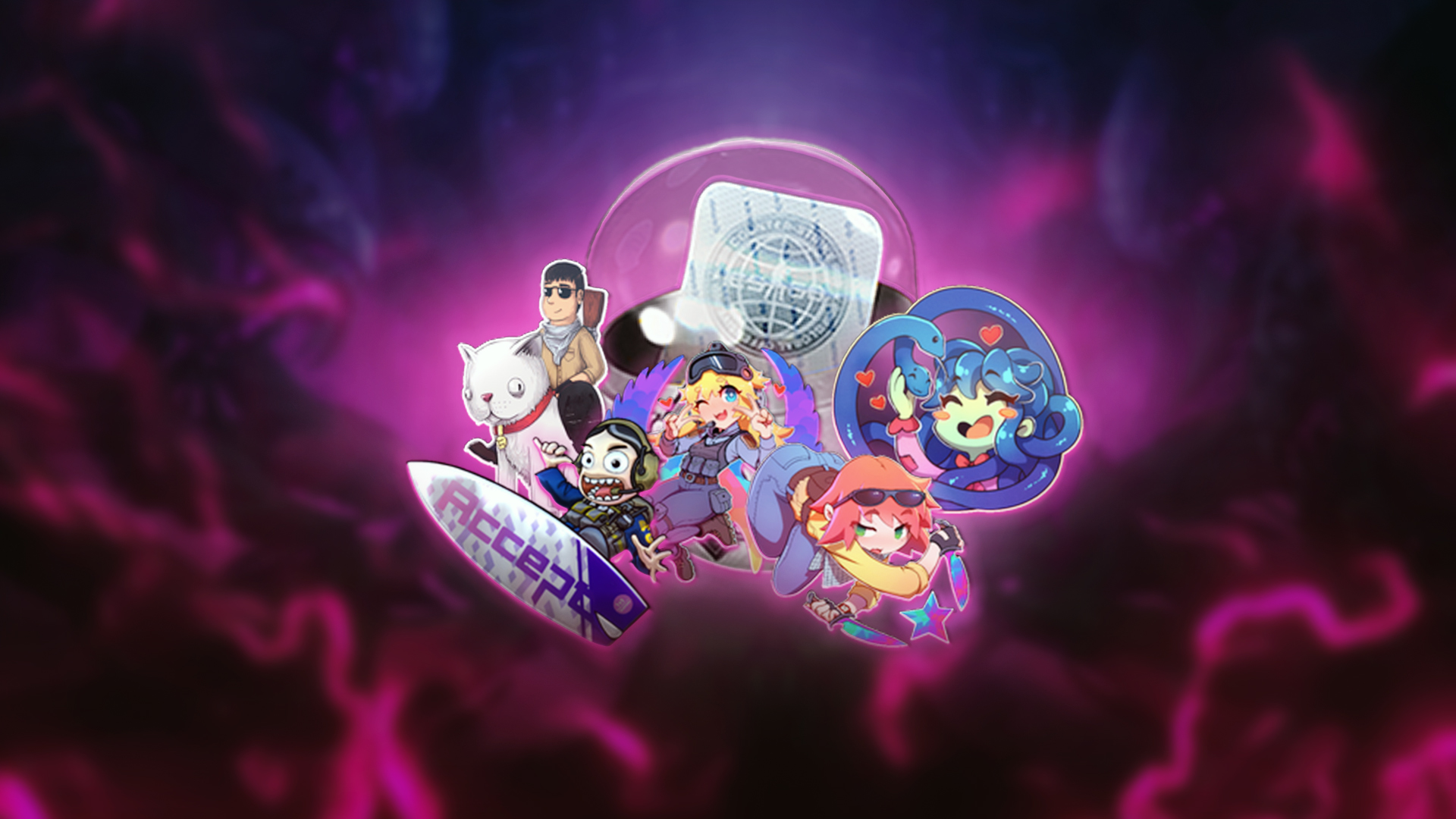 CS2 Anime Stickers: Full List (2023 updated)
In the ever-evolving world of CS:GO, where personalization and aesthetics play a significant role, anime enthusiasts and gamers alike have found a perfect blend of their passions in CS:GO anime stickers. These eye-catching decals not only add a dash of anime flair to your weapons but also let you express your unique style on the virtual battlefield. In this comprehensive guide, we'll dive into the realm of CSGO anime stickers, exploring what they are, why they're popular, and how they can enhance your gaming experience.
CS:GO stickers, including anime-themed ones, are collectible, adhesive decals that can be applied to in-game weapons. These stickers serve both cosmetic and expressive purposes, allowing players to personalize their weapons and make a statement in the CS:GO community. Anime enthusiasts are drawn to these stickers for their ability to infuse a touch of their favorite anime series into the game. Often combined with anime skins, these stickers transform firearms into anime-themed works of art. It is impossible not to mention that the stickers please not only fans of anime, but also other players who want to dilute their skins with something funny and cute, because looking at these stickers you involuntarily want to smile.
Here's a detailed list of the captivating CS:GO anime stickers available in 2023:
CS:GO Anime Stickers: A Comprehensive List and Descriptions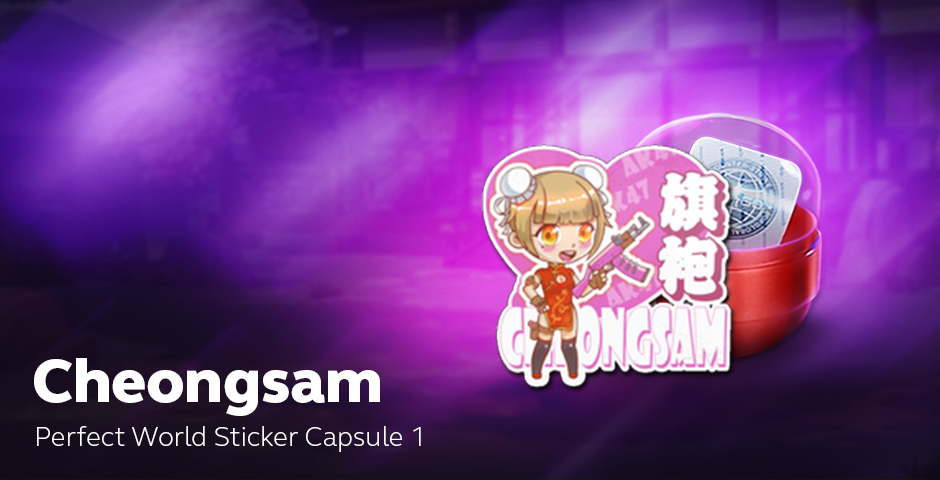 Cheongsam
Price: $0.05 – $3
Capsule: Perfect World Sticker Capsule 1
The Cheongsam sticker pays homage to traditional Chinese fashion. It features a cute figure adorned in a cheongsam dress, complete with intricate pink AK-47. This sticker is a stunning blend of elegance and cultural heritage.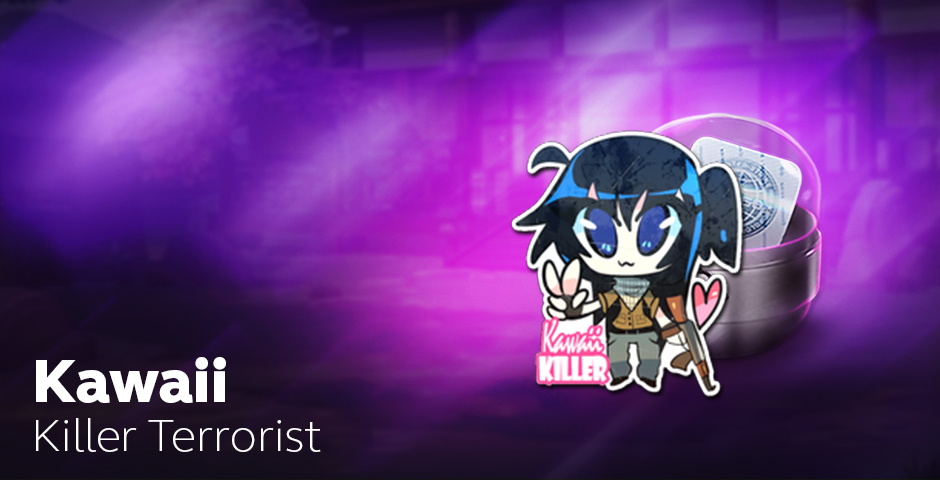 Kawaii Killer Terrorist
Price: $0.05 – $0.50
Capsule: Enfu Sticker Capsule
The Kawaii Killer sticker combines cuteness with a hint of danger. It showcases an anime-style character holding a well-known AK-47, their sweet appearance contrasting with the formidable weapon. It's the perfect fusion of adorable and fierce.
Kawaii Killer CT
Price: $0.05 – $0.50
Capsule: Operation Riptide Sticker Capsule
The Kawaii CT sticker portrays a cute ginger haired chibi in a striking purple Counter-Terrorists ensemble,operative in an endearing anime style. With her peaceful gesture with the right hand, while cradling the iconic M4A4 rifle in her left, she embodies the essence of both style and resilience.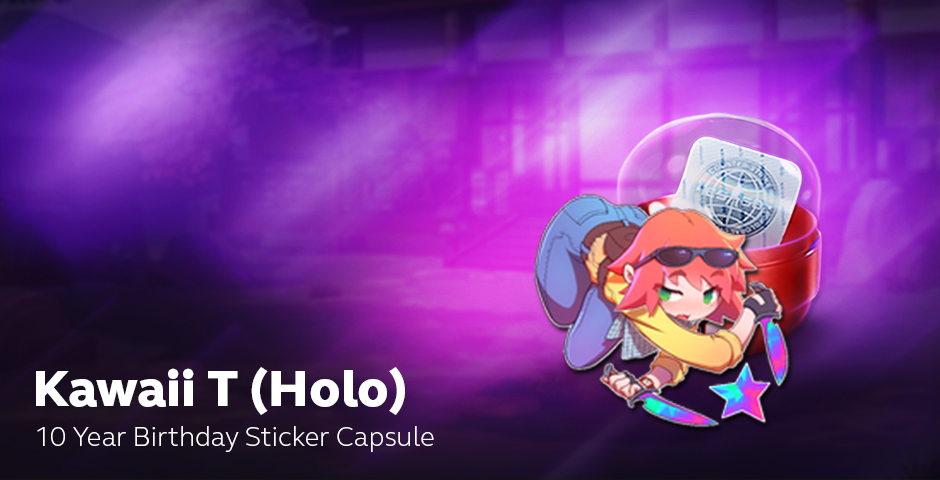 Kawaii T (Holo)
Price: $4 – $7
Capsule: 10 Year Birthday Sticker Capsule
This sticker stands out as one of the game's most sought-after collectibles, showcasing a fierce female terrorist brandishing dual knives and piercing, emerald-green eyes. What sets this sticker apart is its versatility, as it seamlessly complements a wide array of weapon skins.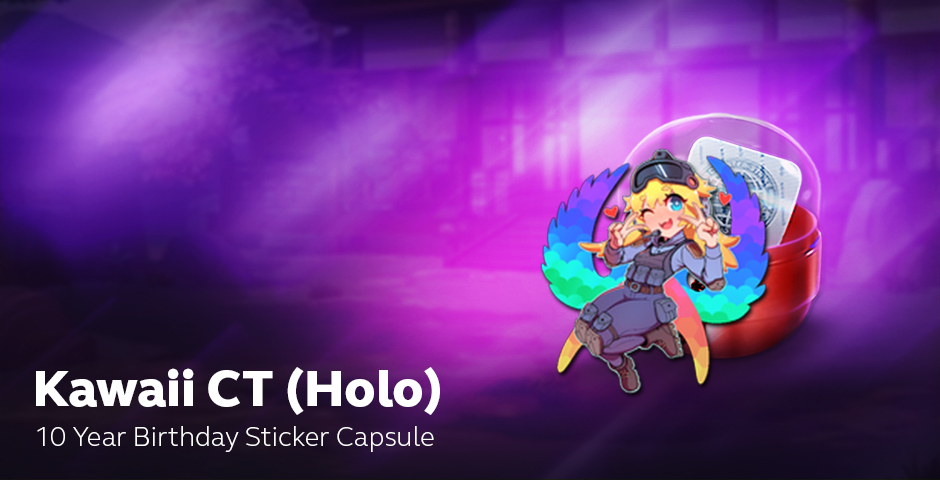 Kawaii CT (Holo)
Price: $2 – $7
Capsule: 10 Year Birthday Sticker Capsule
This sticker portrays an adorable anime girl donning the iconic CT attire, playfully flashing a peace sign while giving a mischievous wink. What adds a whimsical twist to her character is the presence of vivid rainbow wings sprouting from her back, blending an endearing charm with a hint of intrigue.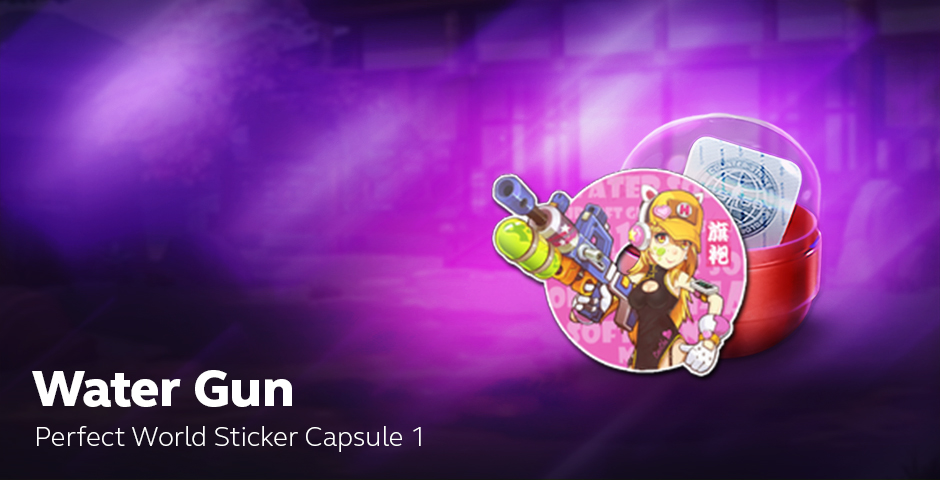 Water Gun
Price: $0.50 – $2
Capsule: Perfect World Sticker Capsule 1
In the realm of anime-themed stickers, this one reigns as a darling favorite, featuring an enchanting Anime girl in a chic black dress, perched atop her head is a sunny yellow hat adorned with headphones cleverly crafted in the shape of cat ears. Adding a whimsical touch to her ensemble, she wields a sizable water gun in her right hand, ready for some playful mischief.
Baby Medusa
Price: $0.05 – $0.50
Capsule: 10 Year Birthday Sticker Capsule
Medusa, a formidable figure in mythology known for her serpent hair and petrifying gaze, takes on an unexpectedly endearing form in this anime rendition. Transforming into a chibi girl, she beams with an irresistibly adorable smile while tenderly caressing her tiny hair snakes, who, in turn, dote on her with affection.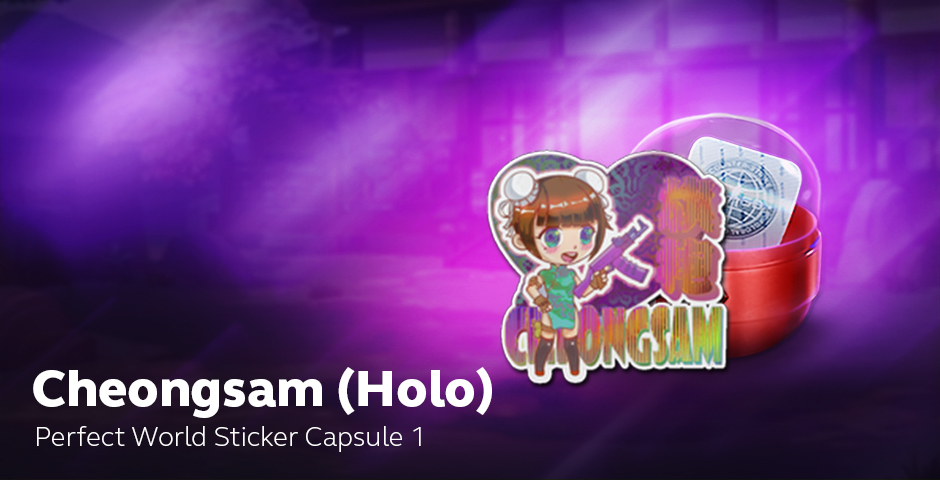 Cheongsam (Holo)
Price: $1.50 – $3
Capsule: Perfect World Sticker Capsule 1
Upgrade your Cheongsam sticker to the holographic version, adding a mesmerizing shimmer to the traditional attire. The same anime girl undergoes a subtle yet striking transformation. Her once adoring eyes now gleam with vibrant shades of green, and her dark hair cascades gracefully around her. She's elegantly attired in a stunning green cheongsam, radiating an air of sophistication and mystique that beautifully complements her new look.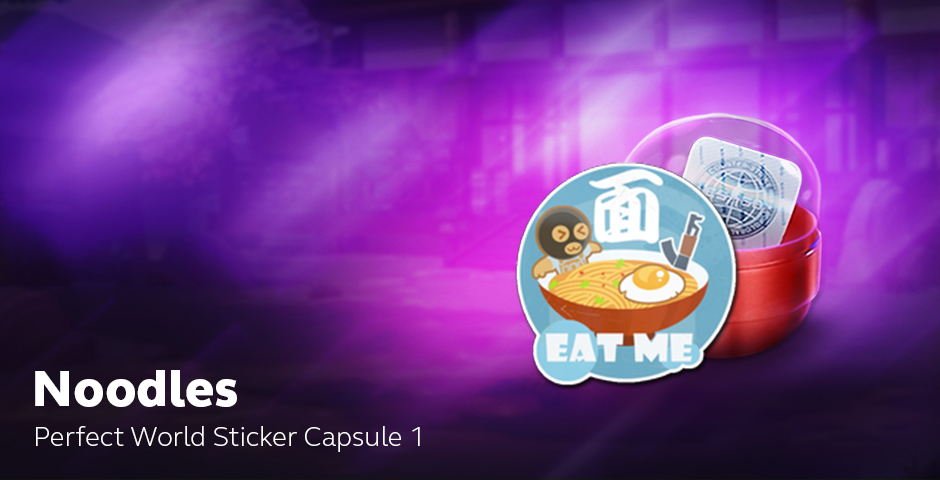 Noodles
Price: $0.05 – $0.50
Capsule: Perfect World Sticker Capsule 1
The Noodles sticker presents a delightful Chibi T model nestled in a bowl of steaming noodles, all while keeping his trusty AK-47 near. Towards the bottom of the sticker, the words 'EAT ME' playfully beckon. This creation has struck a chord with anime aficionados who share a deep affection for ramen, making it a cherished addition to the game's repertoire.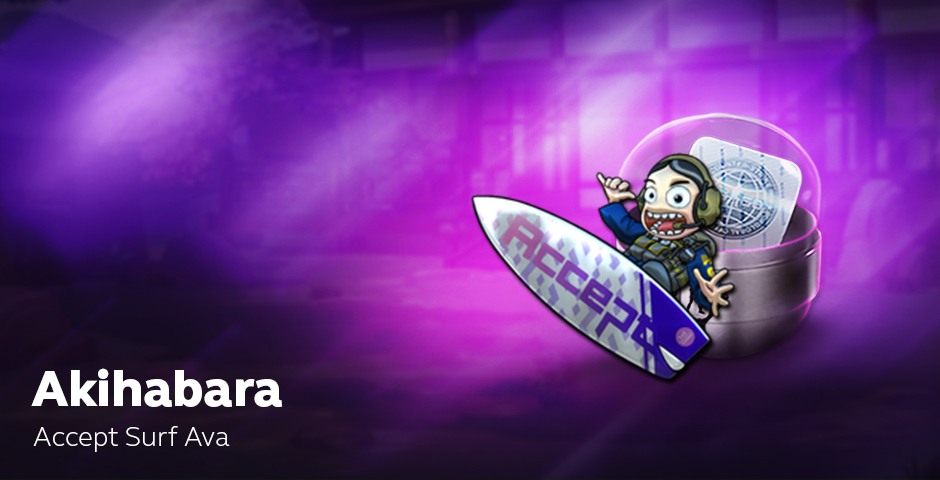 Akihabara Accept Surf Ava
Price: $4 – $5
Here's an exotic addition to your coveted CS:GO anime stickers collection that takes a distinctive spin on the real-world military theme. This sticker spotlights a surfing soldier clad in a striking blue shirt and practical gray pants, accentuated by a camouflage-themed headset and vest. A surfboard adorns the scene, with the word "Accept" prominently written on it, serving as a symbol of Akihabara Accept, one of the most beloved CS:GO skins.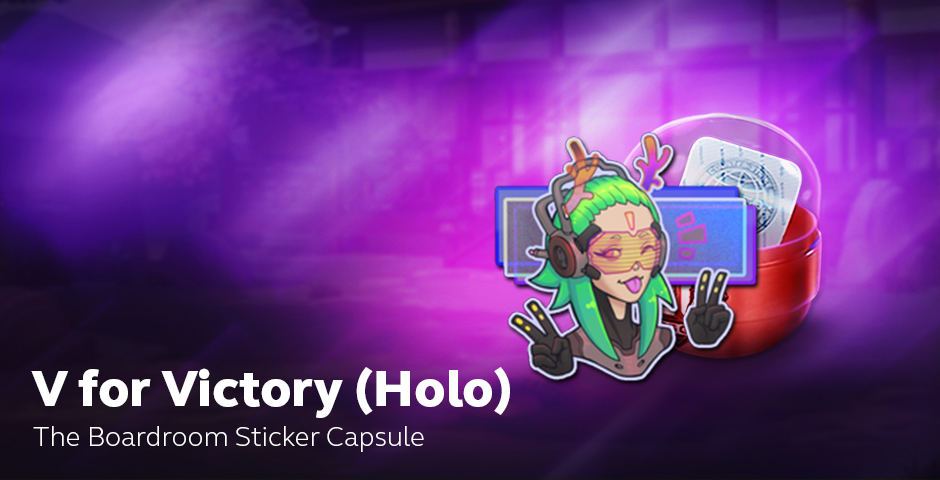 V for Victory (Holo)
Price: $2 – $10
Capsule: The Boardroom Sticker Capsule
This design portrays a playful green-haired girl with a cheeky grin and her tongue sticking out. The vivid hues of green, blue, and yellow envelop the scene, creating a holographic, neon-lit atmosphere reminiscent of the dynamic cyberpunk themes often associated with the innovative creations of Japanese artists and creators.
T on Cat
Price: $1.50 – $3
The sticker vividly portrays a character that belongs to the anime world but with a unique Western cartoon twist. A terrorist figure, complete with an AK-47 slung over their shoulder, confidently rides atop a colossal white cat. The character sports black sunglasses, pants, and a brown jacket, making for a classic, stylish ensemble.The cat's eyes exude a playful and goofy charm, perfectly complementing the overall lighthearted and cartoonish vibe of this one-of-a-kind design.
Each of these stickers brings its unique charm, allowing you to personalize your CS:GO arsenal with a touch of anime magic.
CS:GO Anime Stickers: Infusing Anime Magic into Your Virtual Arsenal
The world of gaming and anime collide through the enchanting canvas of CS:GO anime stickers. These collectible decals allow players to infuse their weapons with a touch of their favorite anime flair, turning virtual firearms into personalized works of art. From the graceful elegance of the Cheongsam to the playful charm of Kawaii Killer, each sticker tells a unique story and captures the essence of anime culture.
Whether you're drawn to cuteness, humor, or cultural references, there's a CS:GO anime sticker that resonates with you. So, as you customize your weapons and dive into the world of CS:GO, remember the allure of CSGO anime stickers. They're more than just decorations; they're a testament to the convergence of gaming and anime, a canvas for your creativity, and a symbol of your unique style in the world of Counter-Strike.
FAQ
Are there anime skins in CS:GO?
Yes, there are anime-themed skins available in CS:GO, and they complement the anime stickers perfectly. These skins feature vibrant artwork inspired by popular anime series, giving your weapons a distinctive anime look.
What are the top anime skins in CS:GO?
Determining the "top" anime stickers in CS:GO can be somewhat subjective, as player preferences and market trends can vary. However, as of 2023, stickers mentioned in our list gained popularity among CS:GO enthusiasts for their unique designs and aesthetics.
What capsule contains the anime stickers in CS:GO?
The anime stickers in CS:GO can be found in the "10 Year Birthday Sticker Capsule"  and "Perfect World Sticker Capsule 1". These capsules contain a variety of captivating anime-themed stickers, allowing you to personalize your weapons in a unique and cute anime style.