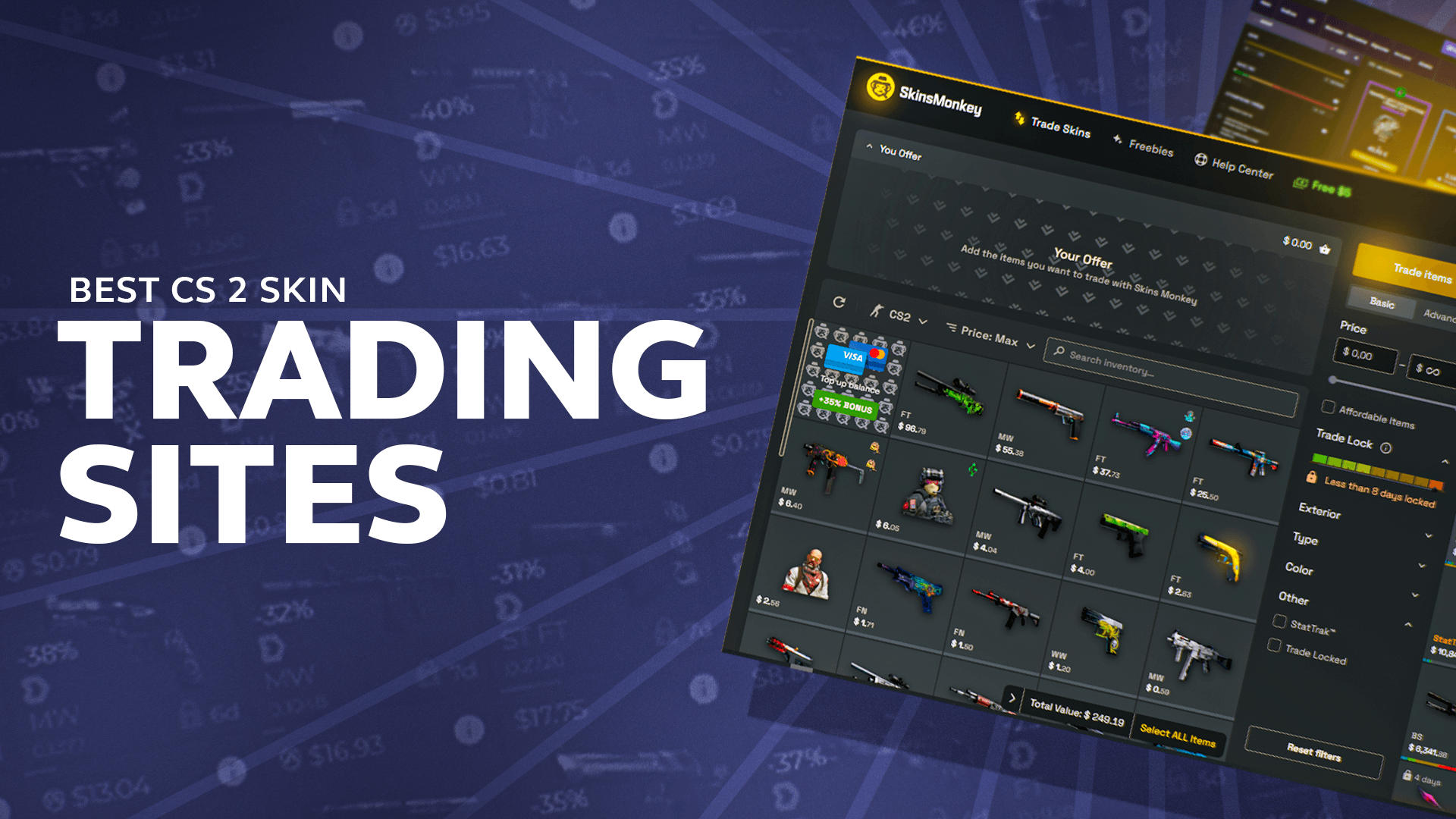 Best CS2 Skin Trading sites: Ultimate Guide [2023]
Since its debut in 2012, Counter-Strike: Global Offensive has risen to immense popularity, drawing in a substantial player base and ushering in a new era of in-game commerce, particularly when it comes to coveted weapon and knife skins. This surge in demand for virtual items birthed the concept of CS2 trading sites, where players can not only monetize their in-game possessions but also engage in savvy transactions with fellow gamers, unbox cases, and acquire exclusive collectibles.
The landscape of CS2 skin trading sites has flourished, creating a thriving ecosystem where gamers can effortlessly purchase, vend, and barter these highly sought-after in-game treasures. In this comprehensive guide, we will unveil the best CS2 trading platforms and provide insights into the art of skillful skin trading, ensuring you maximize your in-game asset potential.
Understanding CS2 Case Trading
In order to gain a comprehensive understanding of CS2 case trading, it's essential to acquaint oneself with the fundamental principles governing the game's item economy. Counter-Strike 2 boasts a diverse array of weapon skins that serve to enhance the visual appeal of in-game weaponry. These skins can be acquired through various means, which include opening cases, engaging in trades, or directly purchasing them via the Steam Community Market.
The act of trading CS2 cases and skins has emerged as a prominent and engaging pursuit within the CS2 community. To navigate this multifaceted ecosystem adeptly, it is imperative to unravel the complexities of this trade, thereby empowering oneself to optimize earnings while minimizing potential losses.
Effective Case Trading: Tips and Strategies
To thrive in the world of case trading, it's essential to equip yourself with valuable insights and strategies. Here are some tips and tricks to help you become a savvy trader:
Market Research Is Key: Staying well-informed about market trends and price fluctuations is paramount. Websites like skin.club can be invaluable resources, providing up-to-date information on item prices and market dynamics.
Exercise Patience: Just like any other market, patience is a virtue in case trading. Rushing into trades or purchases without meticulous evaluation can lead to unforeseen consequences. Take your time to assess your options, weighing the potential risks and rewards before making a move.
Craft a Trading Strategy: To maximize your gains, it's crucial to develop a well-defined trading strategy. This strategy should encompass your buying and selling objectives and specify the items you intend to concentrate on.
Network with Fellow Traders: Building a network of like-minded traders can be highly advantageous in the world of case trading. Join trading groups and forums to stay updated on the latest developments and trends. Such connections can also help you discover potential trading partners.
Efficient Inventory Management: Keeping your inventory organized and up-to-date is vital for a successful trading experience. Regularly assess the value of your items and make informed decisions regarding which items to retain, trade, or sell. This meticulous management will ensure that your trading efforts are optimized.
The Top 8 Best Case Trading Sites
Embrace the Best CS2 Trading Sites in 2023
In conclusion, the world of CS2 skin trading offers a plethora of options for players to engage in buying and selling, creating an avenue for generating income. While the online trading landscape can be daunting due to concerns about scams and reliability, this review has curated a list of the top CS2 trading sites for 2023, providing a safe and legitimate environment for players to explore. So, pick your favorite site from this list, join the community, and start your journey in the exciting world of CS2 skin trading!
FAQ
What are CS2 trading sites?
CS2 trading sites are online platforms that facilitate the exchange of in-game items, primarily weapon skins, between players. These platforms provide a marketplace for buying, selling, or trading CS2 items, often allowing users to transact with real money or other in-game assets.
Are CS2 trading sites safe and legitimate?
Many CS2 trading sites are safe and legitimate, but it's essential to exercise caution when using them. Stick to well-established, reputable platforms with a history of positive user reviews and security measures in place to protect users from scams.
What are some key factors to consider when choosing a CS2 trading site?
When selecting a CS2 trading site, several essential factors to consider include the site's reputation, the variety of available skins and items, fees and transaction costs, security measures in place, payment options, and the user interface and overall user experience.