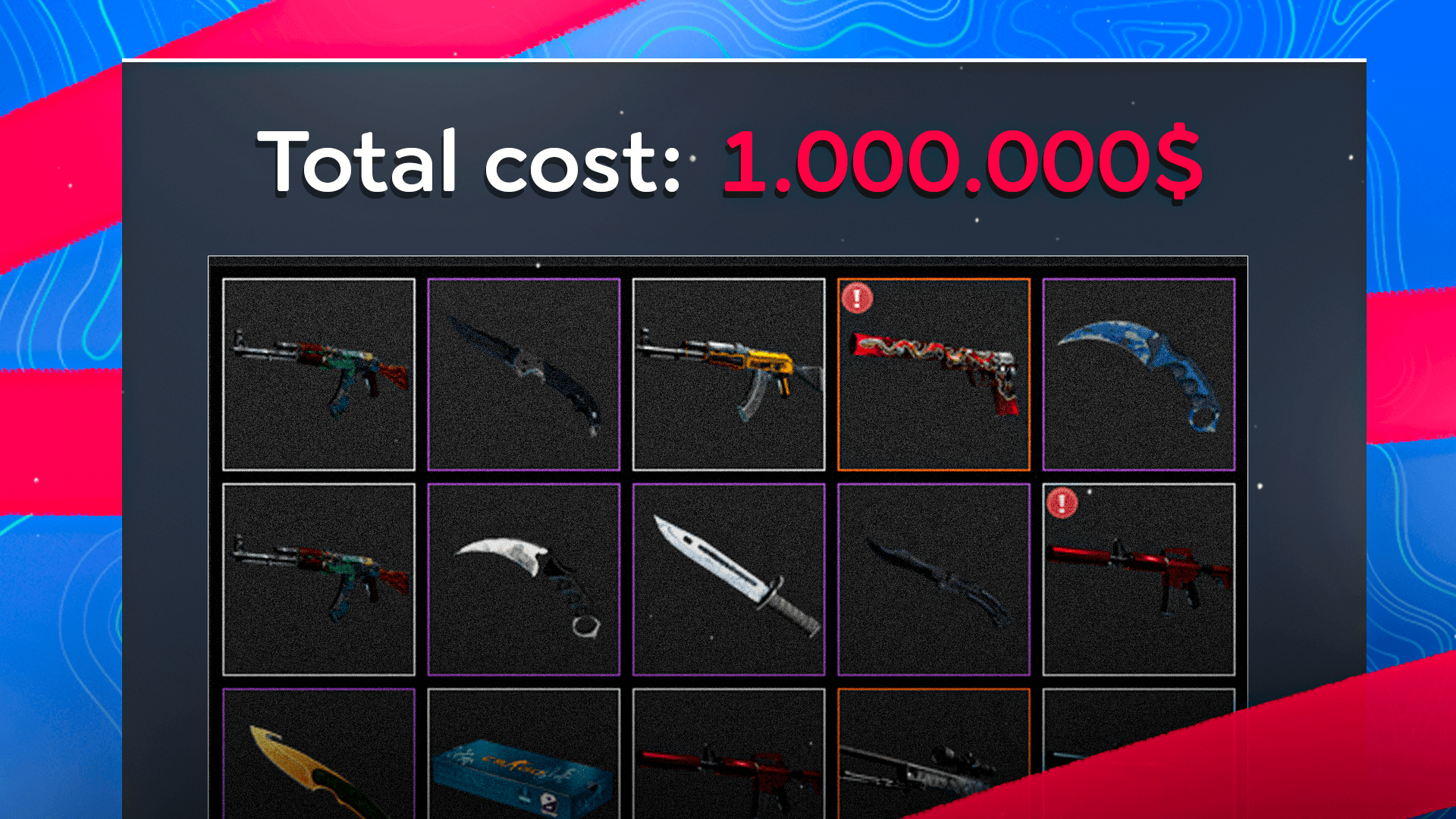 Everyone has probably heard about the computer game CS2. The rules are simple – players' teams fight against each other using different types of weapons. Not everyone knows that the inventory from Counter-Strike 2 is really valuable. It can be sold for real money. And you can also make a top of millionaire players who own the richest set of objects that are useful in the game and managed to provide themselves with a fortune.
How much can an inventory cost?
The collecting of information about how much CS:2 inventory may cost has shown that it largely depends on the rank. The higher it is, the greater the cost of equipment and weapons. For comparison, in the lowest rank, the total price of inventory does not exceed $100, and in the highest – more than $1,200. For those who have never played CS2 and for many ordinary players, these are more than impressive amounts.
In fact, everything is logical. The higher the rank, the longer a person plays. Accordingly, the higher the desire to make the game more diverse, to replenish the collection with new skins on characters and weapons. If you're interested in expanding your skin collection, be sure to explore our top knife skins compilation.
The owner of the most expensive inventory
The owner of the most expensive inventory is 阿乐.
阿乐 is the richest Counter-Strike player, who owns the inventory for a huge amount. Moreover, he continues to invest in weapons and skins. According to the latest reports, he holds an inventory of more than 1 million dollars.
The player owns dozens of the most fantastic knives and machine guns – besides all the rest of the weapons. 阿乐 has exclusives that any player would dream of taking possession of.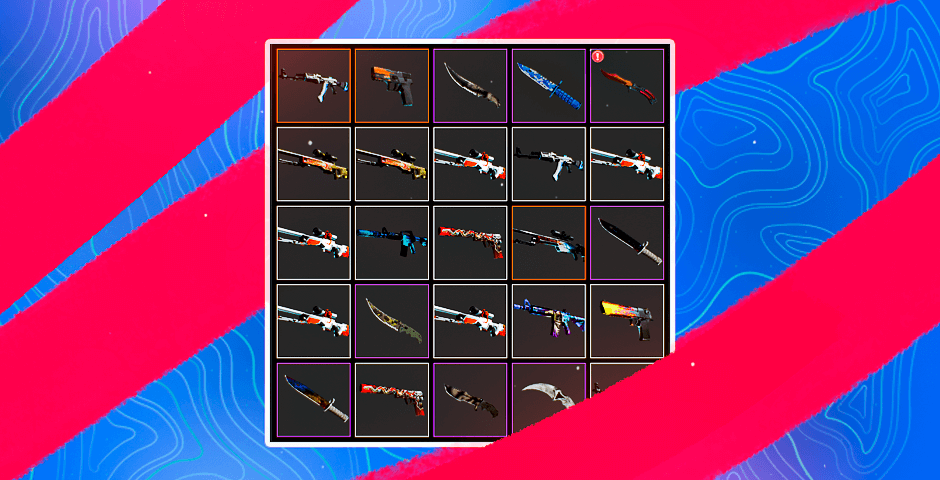 Owners of inventories, which cost more than a million dollars
After 阿乐, the most expensive CS2 inventory possess the next two players:
Senpai Chckeeey — $1,262,665.98. Surprisingly, Senpai Chckeeey's CS2 account doesn't feature super expensive weapon skins. Instead, the inventory's value is primarily driven by containers such as EMS Katowice 2014 Challengers and stickers like iBUYPOWER | Katowice 2014. Obtaining such items, even with Prime Status, is exceptionally rare. These are cherished collectibles associated with the esports era, and their rarity is the primary reason for their staggering prices.
黑猫—AFK — $1,093,786.02. In 黑猫—AFK's inventory, stickers play a significant role, with a total of 200 stickers, the most expensive of which is Team LDLC.com (Holo) | Katowice 2014, valued at approximately $64,042.59 (price may vary depending on the marketplace). Rare stickers of this nature are seldom available for purchase. Additionally, the inventory features impressive pistols like the Glock-18 | Fade, rifles including the AK-47 | Gold Arabesque, and knives such as the Butterfly Knife | Doppler.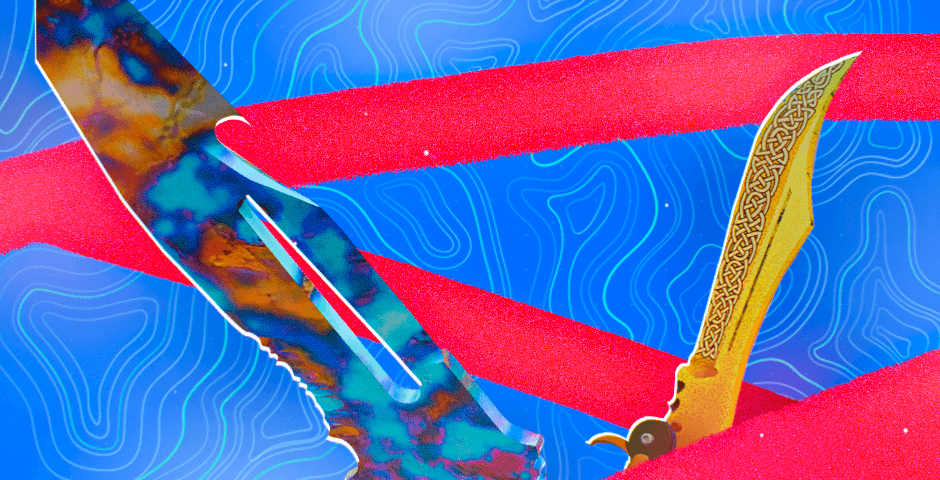 Top-5 players with an inventory of 700 to 850 thousand dollars
Many players have a good inventory, but there are very few owners of impressive amounts (more than 700 thousand dollars). We offer to familiarize yourself with the top 5 wealthiest players after the above three:
至臻胖花花 — $855,506.72. 至臻胖花花's inventory bears a striking resemblance to the most expensive CS2 collection. They appear to have a deep appreciation for knives, boasting 34 of them, including the impressive Bayonet | Gamma Doppler and various other notable Gamma Doppler models. Additionally, the inventory shines in the realm of sniper rifles, with 14 options, including the coveted AWP | Gungnir.
Path — $833,088.13. Path's inventory stands out with a substantial assortment of 381 CS2 stickers, a substantial and eye-catching number for collectors. The big question here is whether to adorn your weapons with these stickers or retain them in the hope of a future increase in value. While Path does possess some rather costly skins, such as the Souvenir AWP | Dragon Lore, the majority falls within the mid-tier category, including items like the M4A4 | The Emperor and MP7 | Whiteout.
Jakeem — $829,515.13. Jakeem's inventory reflects a general investment pattern: 126 stickers, 64 containers, and 18 sniper rifles. In this inventory, we won't dwell on the popular and expensive items. It's common for active accounts to accumulate a variety of lower-priced items, almost like an inherent aspect of trading. Within Jakeem's inventory, you'll discover items like the SCAR-20 | Grotto, priced at around $0.20, the Recoil Case at approximately $0.50, and the Sticker | Don't Worry, I'm Pro, valued at about $1.00.
Nico宝贝 — $777,242.04. Nico宝贝 approaches their CS2 inventory with a remarkable emphasis on quality over quantity. This approach diverges from the one we discussed regarding the previous one, where the focus was on accumulating a vast quantity of items. Nico宝贝's collection comprises three Souvenir AWP | Dragon Lore skins, six unique knives (ranging from Karambit | Gamma Doppler to Bayonet | Gamma Doppler), and exceptional rifles, including the M4A4 | Howl and AUG | Akihabara Accept. The overall collection exudes the essence of a meticulously curated assortment.
Elsa needs AIM — $732,828.88. Elsa needs AIM's account stands out with its solitary knife, the M9 Bayonet | Fade, and an abundance of 107 containers. These containers encompass various EMS Katowice 2014 Legends and standard weapon cases. The inventory predominantly comprises rifles, pistols, and sniper rifles, primarily situated within the low to mid-price range. Notable items include the AK-47 | Black Laminate, priced at around $38, the Five-SeveN | Nightshade, valued at approximately $5.50, and the G3SG1 | Orange Kimono, obtainable for roughly $2.65. For novice collectors, we've curated a special list featuring the best affordable M4A4 skins.
Important! Remember that the game continues, and the rating can change from time to time. But the fact that the listed players managed to create a colossal condition literally from scratch and without investments is an undeniable fact.
Unlocking the World of CS2's Priciest Inventories
In this exploration of CS2 inventories, we've uncovered a fascinating realm where passion for gaming meets strategic investment. The showcased inventories illustrate the thriving market for CS2 skins and items. Each collection signifies not just financial capacity, but a deep understanding of this evolving gaming economy. Aspiring gamers and collectors alike can draw inspiration from these notable inventories, fueling their desire to navigate the exciting domain of CS2 and aspire to build their own most expensive CS2 inventory. Explore, strategize, and embrace the CS2 world of exclusivity.
FAQ
What is the most expensive item in CS2 ever?
AWP | Dragon Lore (Souvenir): Most expensive skin ever sold
Who has the biggest CS2 inventory?
It's challenging to pinpoint the absolute "biggest" CSGO inventory, as inventories can change rapidly and new valuable items are constantly being traded. Moreover, some high-value items may not be openly displayed in inventories.
How much is Neymar's CS2 inventory worth?
Although smaller in comparison to the inventories listed earlier, Neymar's CS:GO inventory is still valued at approximately $40,000 (£32,450). It includes a variety of knives, an AWP Dragon Lore, and even an M4 Howl.