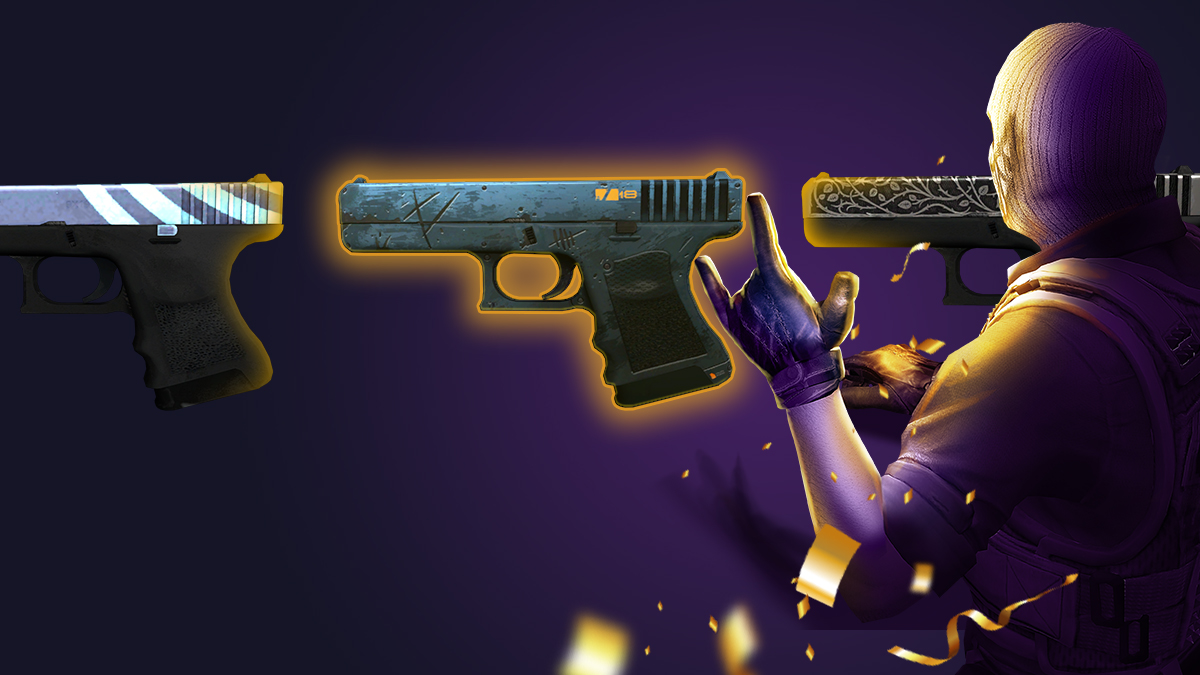 The Best Glock-18 Skins in CS2 Under $10 [2023]
The Glock-18, a trusty sidearm in the world of Counter-Strike: Global Offensive, holds a special place in the hearts of players. Loved for its versatility and cost-effectiveness, this pistol has become an icon within the game. Its ease of use and rapid firing rate have made it a favorite among both new and seasoned players. With its widespread popularity, it's no surprise that players are on the lookout for the best cheap Glock skins CSGO to customize their weapon without breaking the bank.
While there are plenty of high-end skins available, many players prefer to explore the realm of affordable Glock skins CSGO that still offer remarkable aesthetics. These skins not only enhance the visual appeal of the pistol but also add a touch of personal style to the gameplay. Whether you're looking to spruce up your Glock-18 or just starting out in the world of skin customization, there's a plethora of options that won't strain your wallet.
Top Affordable Glock Skins
These affordable Glock-18 skins offer a wide range of visual styles to suit different preferences. While selecting a top Glock skin, consider both its price and how effectively it blends into your gameplay style. Whether you're into vibrant colors, space-themed designs, or something more mysterious, this list has you covered without straining your in-game budget.
Note: Prices are approximate and subject to market fluctuations.
A Stylish Edge for Your Glock-18 in CS:GO
As the dynamic world of CS:GO continues to evolve, the Glock-18 remains an essential tool in every player's arsenal. These best cheap Glock skins in CS:GO, all under $10, offer an accessible avenue to infuse your gameplay with style without sacrificing effectiveness. Whether you're drawn to futuristic cosmic designs, enigmatic themes, or sleek minimalism, these Glock-18 skins cater to diverse tastes. Equipping your Glock-18 with one of these affordable yet high-quality skins allows you to not only express your individuality but also maintain your competitive edge. As you venture into battles, the right skin can transform your sidearm into a true reflection of your identity and tactical prowess. Embrace the world of customization with the best cheap Glock skin CSGO.
FAQ
What is the best Glock skin in CS:GO?
The "best" skin can be subjective, as it depends on personal taste. However, the Bunsen Burner and Off World skins are popular choices due to their distinct designs.
What is the most expensive Glock skin in CS:GO?
The prices of CS:GO skins can vary over time. Generally, StatTrak versions of skins tend to be more expensive due to their tracking feature.
What is the rarest Glock-18 skin in CS:GO?
Rarity can change based on market trends, but skins from older collections or limited-time events tend to be rarer. Keep an eye out for skins like the Howl or the Fade for their rarity.