PARIS MAJOR 2023 ON SKIN.CLUB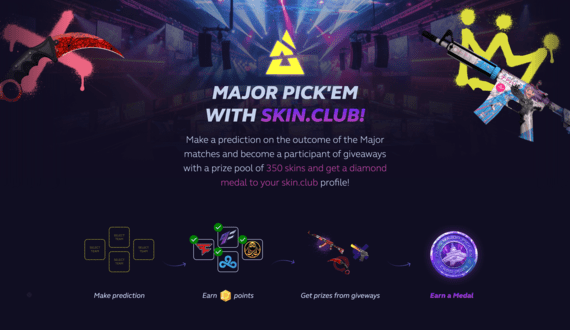 Skin.Club Major Pick'em
Paris Major is fast approaching and Skin.Club is excited to launch a new season of predictions for this highly-anticipated tournament. We invite you to make your predictions for each stage of the Major, including the Challengers Stage, Legends Stage, and Champions Stage, taking place from April 21 to May 21.
By accurately predicting the "match winner" and "match results" (3:0 or 0:3), you'll earn points that can help you win some incredible prizes. Get ready to win some awesome Pick'em skins!
Skin.Club have a strong passion to the esport part of the Counter-Strike and will support young talents of Into The Breach! Into The Breach was a dark horse of the European RMR Qualifiers to the BLAST Paris Major. This is the first time when this roster comes to the major and they already made it to the Legends Stage of the last CS:GO Major. We wish this roster luck on Paris Major!